FASTag has been a phenomenal game changer. With over 97% penetration in the Indian market across passenger & commercial vehicles, 5.87 crore tags were issued in FY22, recording a 49% Year-over-Year (YoY) increase from just 4 lakh tags in 2016.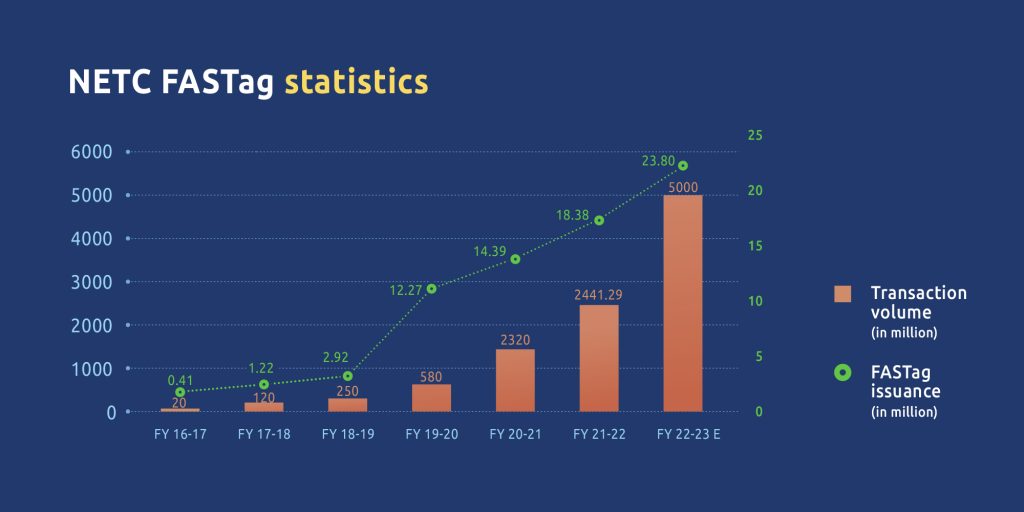 In 2016, the NETC (National Electronic Toll Collection) program was launched by NPCI (National Payments Corporation of India) as an interoperable solution for the purpose of digitizing cash collection at toll plazas. NETC introduced FASTag, a cashless toll collection system that runs on RFID (Radio-Frequency Identification) technology. Its primary objective was to eliminate manual toll collections, enhance operational efficiency, reduce waiting time, and lower environmental impacts, among other associated benefits. Since then, numerous product innovations such as parking payments, fuel payments, and e-challans are done on top of FASTag.
Here's how FASTag product has evolved since its inception in 2013.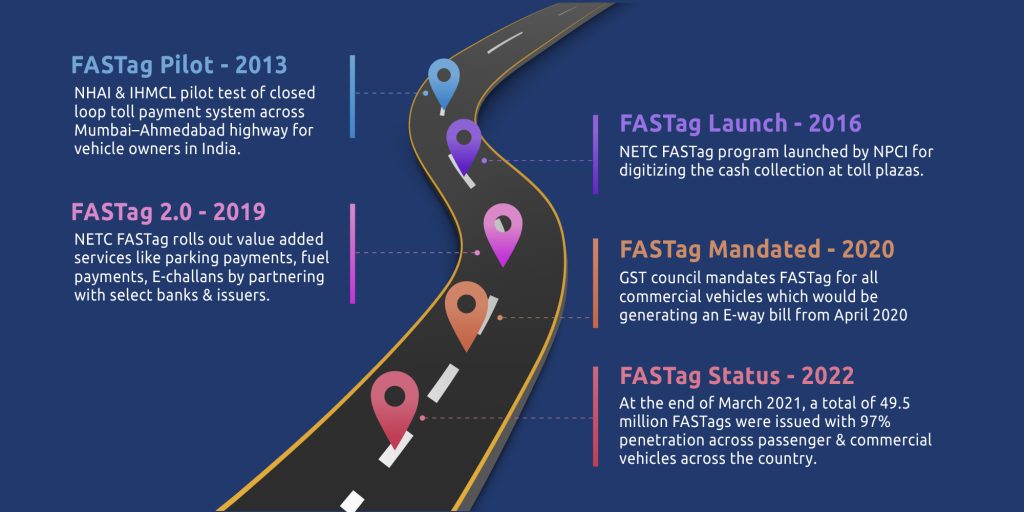 FASTag & Fleet
FASTag not only revolutionized the adoption of cashless payments for passenger vehicles. It played a great role in increasing accountability and transparency for fleet owners and drivers. It also helped the GST council in ensuring all commercial vehicles are tracked and their e-way bill and GST payments made.  The integration of FASTag with commercial vehicles generating e-way bills gave an immense boost to GST Network (GSTN) as it helped in identifying the leakages with respect to non-issuance/misreporting of e-way bills.
Challenges & the need for unified fleet payments
Currently, toll payments through FASTag comprise 15% to 20% of fleet expenses. Though FASTag simplified and digitized toll payments, fleet owners still find it challenging to manage and track the rest, i.e., 80% of fleet expenses.
For instance, fleet drivers use different modes of payment for food, fuel, unforeseen maintenance services, and other miscellaneous expenses. Payment methods that drivers use can range between cash, UPI, prepaid, debit, and credit cards. Using multiple modes of payment across the trip makes it difficult for fleet operators to track and manage operational expenses under one roof. This results in poor fund management and operational inefficiencies. So, a dire need for a unified fleet payment account arises.
What if there is a single account that can be used to manage all fleet payments?
Presenting QuikWallet FASTag, India's first Multi-Purpose FASTag.
Powered by LivQuik, QuikWallet is India's first non-banking PPI to get a FASTag issuer license from NETC. The FASTag wallet is linked to a RuPay-powered prepaid card.
With QuikWallet, FASTag balance can be used to pay for all expenses incurred during a trip. It helps fleet owners manage funds easily. Right from fuelling the vehicle to servicing/repairing it, and from paying the tolls to parking the vehicles, this single wallet solution can be used by drivers for all payments. This capability makes QuikWallet the first-of-its-kind Single Source of Trip Payments wallet for fleet owners & transporters.
Until now, money in most FASTag accounts is used only for the purpose of toll payments. Other than that, the money in the account remains unused. This reduces the efficiency of fund management for fleet operators. By using QuikWallet FASTag, these challenges can be easily addressed. The wallet can be used as a single source for all fleet-related payments for the entire trip.
How does QuikWallet work?
QuikWallet FASTag card works just like a FASTag account but with a lot more benefits. Fleet owners get free RuPay virtual cards and a physical card for a nominal fee. This single wallet (FASTag + Card) can be used for transactions across tolls and any card-accepting system i.e., e-commerce, POS, and ATM. The wallet can be conveniently recharged through any digital payment channel that includes UPI, IMPS, NEFT, RTGS, and UPI with zero loading charges. The platform has open APIs to integrate with other stakeholder platforms as well as a web-based portal allowing advanced account management facilities for the wallet with features like account blocking, limit management, PIN change, and transaction history display.
Key features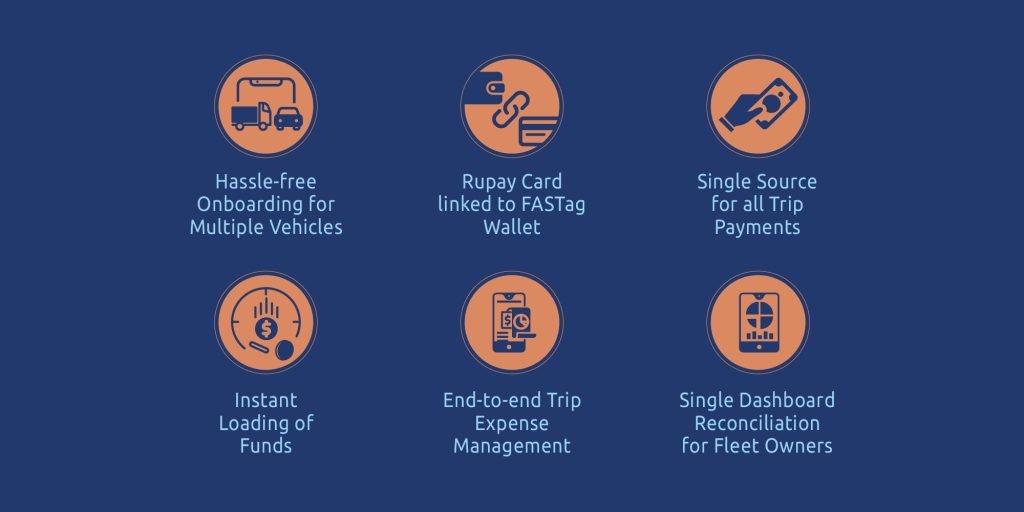 Customized offerings for efficient fleet payments
Fleet owners can onboard multiple vehicles and manage the allocation of funds through a single virtual account. The wallet also gives an end-to-end trip expense management solution for fleet owners and drivers through APIs as well as a simplified web-based portal. Apart from directly serving the fleet owners, QuikWallet FASTag Platform integration also benefits the stakeholders, i.e., fleet aggregators, telematics companies & fintechs associated with the fleet industry to add a layer of payments across their offerings.
Get India's first multipurpose FASTag today! Visit our website