Small Fleet Operators (SFOs), who own less than 10 trucks cater to over 85% of the logistics needs in the country. Their expertise in providing customized and flexible freight services to specified niches and the ability to adapt to changing market conditions sets them apart from the larger players.
However, there are certain challenges that limit the scaling ability of SFOs, despite several Central Government initiatives and the growing demand for small fleet services.
In this article, we take you through these challenges in detail and we explain how centralized technology can help SFOs overcome the odds.
Challenges Small Fleet Operators Face
As the number of trucks associated with each fleet owner is relatively small, centralization of operations and payments remains a distant reality. Given their limited budget and manpower, they grapple with complexities in managing fleet operations. Tricky routes, erratic travel schedules, fuel price fluctuation, rising costs, and tough driving conditions further add to their woes.
Hiring and retaining long-term employees is a huge plight for small fleet operators. Permanent drivers for instance are a challenge to find and keep. In usual scenarios, temporary drivers come in for trips and leave when the trip is done. This situation creates a larger dependency on cash and other available payment modes for managing trip expenses. The usage of multiple payment modes causes major inefficiencies in trip expense management.
Handling trip payment data across multiple accounts and payment modes is another area that can be a tedious one. Error-prone processes such as manual documentation, physical invoice maintenance, and cluttered excel sheets further add to the distress. Digital transformation in SFOs can be successful only when there is a seamless integration of the fleet with telematics, GPS, Insurance, and FASTag. This integration is highly distorted in regular SFOs due to disparate systems and processes.
Need for a Centralized Single Expense Account
To harness large volumes of data, manage multiple integrations and optimize trip payments, SFOs need a centralized, single expense account for trip payments with the following features.
Seamless linking of all vehicles to one account
Easy expense tracking and reconciliation
Efficient capitalization and budgeting
What could a Single Expense Account do for your Fleet Business?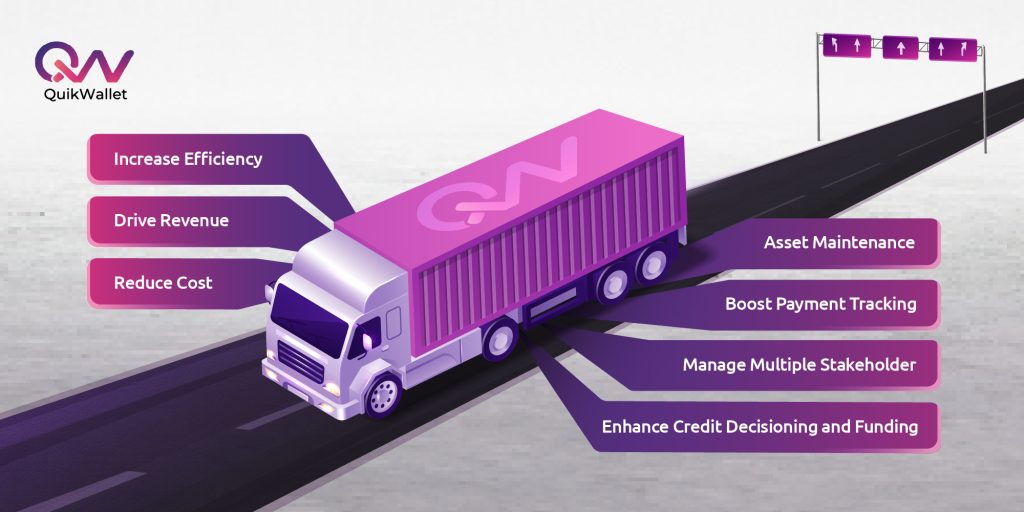 Increase efficiency, reduce cost, drive revenue
Even though GPS and FASTag offer vehicle visibility, it is still not enough data for smaller fleet owners. SFOs need more insights into trip expenses to reduce cost, improve safety, drive revenue, and optimize efficient deliveries. Integrating telematics with your single expense account can be a game changer in helping you understand total operating costs. All expenses related to the fleet, including maintenance, fuel, and repair costs, can be analyzed and tracked from one place. It can even help SFOs drive revenue out of these data points. An integrated telematics interface also provides real-time insights into the health of the vehicle, maintenance expense reports, etc., and helps avoid overspending on scheduled maintenance, thus ensuring optimum utilization of vehicles.
Boost payment tracking and asset maintenance
Using multiple modes of payment for fleet expenses can be inefficient and time-consuming in the long run. Fuel, toll, and driver expenses are major trip expenses, along with other asset maintenance charges like insurance, truck inspections, service, and tire changes, among many others.
Fuel is usually paid by using prepaid fuel cards, and tolls through FASTag-linked current/PPI accounts and driver expenses are managed through cash or driver expense cards. Asset maintenance charges are paid with the help of third parties. All these expenses are done from multiple sources, making them difficult to track and reconcile.
Imagine an expense account integrated with all major Oil Marketing Companies (OMCs), FASTag, and third-party service providers for asset maintenance, and of course, bundled with a telematics interface. By having all expenses in one account, SFOs can keep track of payments, ensure timely processing of invoices, improve cash flow, increase transparency, and reduce administrative work.
Manage multiple stakeholder involvement
The involvement of multiple stakeholders increases the complexity of a supply chain ecosystem. It starts with a fleet owner and comes down to multiple route managers, drivers, fuel partners, service station associates, and many more. Each person has a different set of information that needs to be reconciled at the headquarters of the SFO. Sometimes, the receipts are paper-based and need to be dispatched to be accounted for. And the headers and ledgers in the accounting tool may not be standard, making it a manual and tiresome job.
The unified expense solution will serve as a source of truth to monitor and manage the payment requirements and interactions of the stakeholders on time. It will help fleet businesses to forge stronger connections that ensure a smooth and efficient flow of money within the ecosystem. The single-expense solution improves visibility, reduces confusion among stakeholders, and facilitates hassle-free communication, as well as accountability and transparency.
Enhance efficiency in credit decisions and funding
The unavailability of accurate data, incompetent payment reports from multiple sources, and poor budgeting and capital allocation make credit decisions and SFO funding a tough proposition. Implementation of a unified platform for tracking all relevant data from one place and easily extracting the data in a form acceptable to funding institutions can help solve the above inefficiencies.
The unified source of payments will enable fleet businesses to streamline, track, settle, and analyze trip payments and other important data points without any hassle. As all expenses across multiple vehicles and trips are handled from a single payment account, there will be zero chaos, greater accountability, and higher transparency.
QuikWallet, the Single Source for All Trip Payments
QuikWallet, a first-of-its-kind, multipurpose FASTag linked to a digital wallet can be used as a single source for trip payments. It comes with a RuPay-powered virtual/physical card and can be used to make any expense on the trip. QuikWallet is integrated with a unified platform giving fleet owners access to the following features.
Trip data insights
Centralized expense management and accounting
One source for all trip payments
Want to know more about enabling a single account for trip payments via QuikWallet? Visit our website.