The future of fleet payments is here. Consistent innovations in the industry have led to significant changes that streamline money flow among multiple stakeholders in the supply chain. They have resolved key challenges in enabling seamless digital payments, zero toll evasions, and reduced fraud, among several others.
Being one of the most thriving markets globally, the fleet management market is slated to hit $52.4 Bn by 2027. In India, the industry is heading towards a futuristic upgrade, thanks to the technology deployments and INR 1.34 lakh crore budget allocation for the NHAI (a whopping 106% greater allocation than in 2021).
Now, no article in the fleet payments or innovation universe will be complete without delving deep into FASTag.
FASTag is one of the key innovations in fleet payments that contributed to over 2.4 billion transactions worth INR 38,000 crores in 2021-22. The initiative marks India's first digital financial footprint for logistics and is estimated to clock close to 50,000 crores by FY 2023.  
What is FASTag? 
FASTag is an electronic toll collection mechanism from the National Highways Authority of India (NHAI) and the National Payments Corporation of India (NPCI). It uses radio frequency identification (RFID) tags affixed on vehicles to make toll payments directly while the vehicle is still moving.
FASTag enables vehicle owners and drivers to leverage the convenience of digital payments to reduce waiting time and fuel wastage at toll plazas and optimize friction-free travel. The past few years have witnessed a constant upgradation in the roadways infrastructure. The National Electronic Toll Collection (NETC) and FASTags have played a crucial role in this transition.  
Evolution of FASTag 
Fleet was not always the most digitized when compared to other industries. Complexity in fleet payments, multiple stakeholder involvement, and a lack of tech-savvy drivers further led to delayed digital adoption. These discrepancies caused revenue leakage in toll plazas and non-standardized vehicle classification, as cash was involved in toll collection.
To resolve the challenges above and provide people with the utmost convenience of cashless payments, the Indian Highways Management Company Limited (IHMCL) and the NHAI introduced FASTag in 2014.  
FASTag Vs. Manual toll collection
As per Impact Assessment Research 2021, FASTag resulted in numerous benefits for stakeholders across the toll payments and collection system.
Here's how FASTag scored over manual toll collections in the following criteria.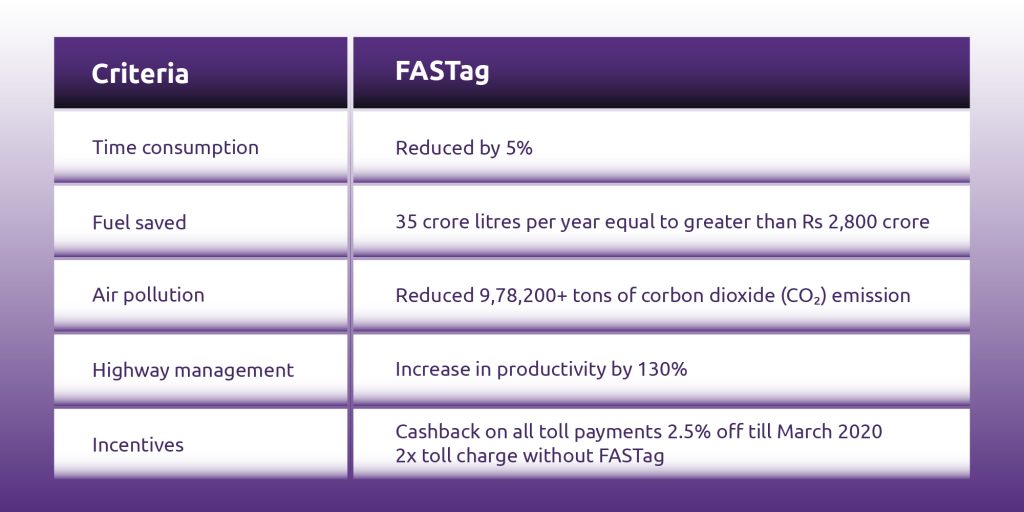 9 FASTag-based Fleet Innovations 
Fleet payments today are largely pivoting towards digital payments based on cards, UPI, and digital wallets. A central entity is maintained to track and manage telematics/GPS, fuel, and maintenance purchases. So, turning our focus towards the next-gen fleet upgrade is crucial.
The NPCI is now developing novel FASTag use cases within the NETC architecture by utilizing the 50 million tags that have been distributed to vehicles. Leveraging existing payment modes, these initiatives will enable seamless travel experiences, reduce pollution, eradicate toll evasion, and diminish instances of fraud.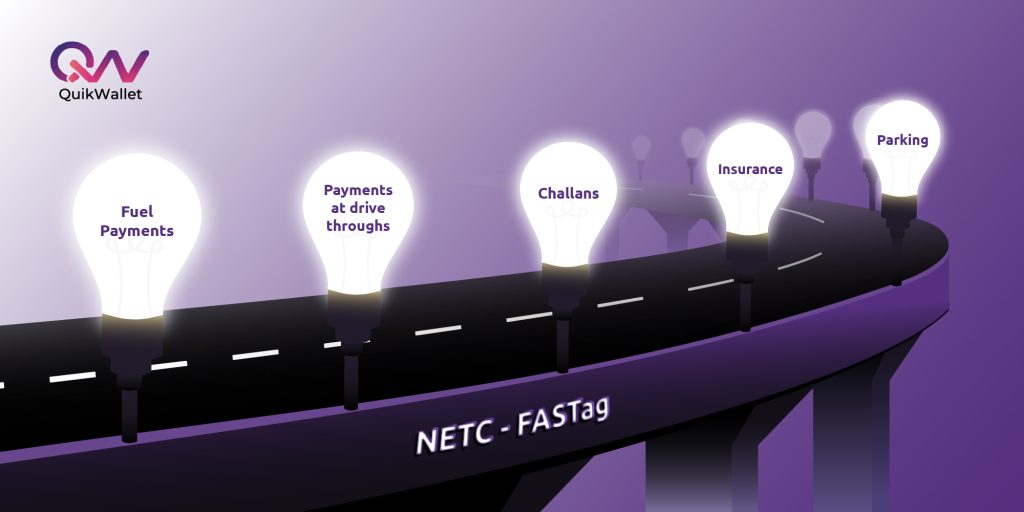 Here are 9 futuristic innovations in fleet payments that are FASTag based. The first five have already been implemented, while the rest will be catching up soon.
1. Card-based payments
Idle balance in the FASTag wallet and the inability to use the money for other trip expenses is one of the most unaddressed challenges in fleet payments. Using multiple modes of payment for trip expenses like food, fuel, parking, maintenance, and others, makes it difficult for fleet operators to track and manage operational expenses.
This is where a multi-purpose expense card solution like QuikWallet FASTag saves the day. As a first-of-its-kind expense card, it is designed to help retail and fleet operators use FASTag as a single source of trip payments. The fleet drivers can use their FASTag balance to pay for toll, parking, fuel, food, vehicle service/repair, shopping, and accommodation.
2. Parking fee payments
In 2021, the NPCI launched a FASTag-based parking facility, wherein the driver can pay the parking fee using the existing FASTag at metro stations, malls, hospitals, tech parks, and business parks, among several others.
3. Fuel payments
FASTag-based fuel payments are currently live with two leading banks acting as both issuers and acquirers. Many banks are joining the bandwagon by providing the facility of making fuel payments.
4. Location-based payments
The Global Positioning System (GPS) can enable the tracking of a vehicle and record its entry and exit from virtual toll booths, allowing the user to be charged only for the distance the vehicle travels. With this initiative, there will be no more installation of physical toll plazas and long queues on highways. Traffic congestion would be minimized, enabling free traffic movement.
5. ANPR Technology
Automatic Number-Plate Recognition (ANR) technology uses vehicle number plate readers to rapidly recognize a car at the toll plaza and then deduct the toll fee from the attached payment instrument. The vehicle license plate image is captured as the input, and the associated vehicle details are the output, along with time stamping.
Now, let's look at the FASTag-based payment innovations that can be incorporated into the Indian fleet industry in the future.
6. Electronic Vehicle (EV) charging and payments
Companies are coming up with creative methods to use FASTags to pay for public EV charging stations as toll payments become digitalized. With more EV charging stations being installed all around India, this is being looked into.
7. Integration of e-way bills
Law enforcement agencies can use the NETC system to effectively track carrier vehicles and the transportation of products on roadways. They will have access to information about each vehicle's timestamp and geographic location. Delivery and courier services can also use this technology to update their systems with information on real-time location and give users information.
8. Vehicle insurance, documents, and traffic violation challans
To help authorities deal with violations, the NETC system can be updated to feed and retain information about vehicle insurance plans and their validity, registration information, tax payments, pollution control certificates, and traffic violation challans. Constant monitoring of compliance will increase traffic safety and aid in crime reduction.
9. Payments at drive-through restaurants and drive-in theatres
A few domestic start-ups are conducting pilot runs to profit from FASTag-based payments. These third-party service providers are integrating their solutions with FASTag wallets to facilitate payments at drive-through food chains, gas stations, and drive-in theatres. 
Future of fleet  
India is moving towards efficient and seamless logistics infrastructure, as stated in National Logistics Policy drafted recently. The target is to bring down the cost of logistics and create a data-driven decision-support mechanism for an efficient logistics ecosystem. With such targets, the emphasis on innovative API-based tech solutions is going to help transform the fleet payment ecosystem by unifying fragmentations, automating manual redundancies, and managing risk factors. Visit our QuikWallet website to deploy end-to-end trip expense management solutions, onboard multiple vehicles, and manage fund allocation, expenses, and partner integrations seamlessly.